JAM LODGE HOTEL, SUITES & APARTMENTS
JAM Lodge is a boutique hotel and suites with comfortable and affordable accommodations designed for the global traveler who wants the comfort of home while on the road. We offer daily room stay, daily or weekly suites stay/rate, as well as daily, short or long term furnished Apartments stay/rate in different locations. Our hotel and apartments are strategically located around Government centers and entertainment places.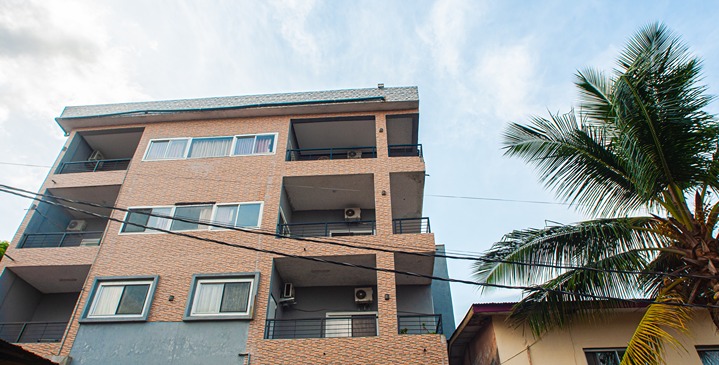 A touch Of Warm Welcome...
Our rooms are designed to be your home-away-from-home. We pay attention to the smallest details to ensure your stay is as comfortable as possible, with a quality mattress, a work desk and a relaxing chair to watch your favorite movie or sport. Each room has a satellite tv service with over 400 channels or you can stream from either YouTube or Netflix. We also offer room service.
Discounts are offered to our customers for short (over a month) and long term stays.
Enjoy a game of pool, a workout at our gym facility, or a cocktail at the bar while watching your favorite sports i.e., Premiere League, La Liga, Serie A. JAM Lodge staff are at your service.
In addition to free breakfast included with your booking, We operate a kitchen service for Lunch and dinner. We offer a variety of breakfast items like pancakes, eggs, waffles, oatmeal, or a continental breakfast. For lunch and dinner, we offer Western as well as African cuisine. We also provide a meeting room for small groups.
We also arrange special excursions to Private beaches, including Bureh Beach (Jam lodge house), Number 2 River or Tokeh beach. Aberdeen Beach is close to the hotel and taxis or Keke can to take you there. Also trips to Tacugama, Banana Island or turtle island can be arranged with our partners. There is also a Keke tour that can be arranged.
Beach Excursions (Bureh Beach)
African and Western Cuisines
Beach Excurions (Bureh Beach
African and Western Cuisines
Restaurants around the Vicinity
You can check out these nearby restaurants around our hotel if you are in the mood to explore
Comfortable Bed
Wifi
Microwave on Demand
Flat Screen TV with DSTV
Mini Fridge
Comfortable Bed
Wifi
Microwave on Demand
Flat Screen TV with DSTV
Mini Fridge
Bed Room Apartment (Rent)
Comfortable Bed
Wifi
Microwave on Demand
Flat Screen TV with DSTV
Mini Fridge
Comfortable Bed
Wifi
Microwave on Demand
Flat Screen TV with DSTV
Mini Fridge
Our staff will be happy to answer all your questions. Please contact us to enquire about our services and arrange your stay with us